I'll never forget a morning when I was really struggling. Then God turned the whole picture around for me!
My picture of life at the time was heavy, challenging, and salted with more than a sprinkle of fear. I was totally off balance and scared from an unexpected and mammoth financial hit. I won't go into all the details here. But due to an assortment of circumstances and irresponsible people, my stable money picture turned into a bleak condition.
So on this particular morning, I was trying to pray and talk with God. But my mind was racing with thoughts. Plus I was so full of stress that I had a hard time focusing on the Lord. I could sense what was happening in me. So I began confessing. "Father, I am so sorry that I am out of balance right now. I just have so much to do. I have so many responsibilities. I can't seem to settle down and be quiet with You."
And that's when He spoke to my heart. That's when He turned the picture around for me. He said, "You've got it backwards. If you spend time with Me, I will handle the problems. Instead, you are trying to handle your troubles on your own and without Me. Come to Me."
Whoosh! I immediately saw what I was doing. I was so caught up in trying to figure out how to handle the crisis that had just hit me . . . that I didn't turn to God and put my trust in Him. And instead of resting in His love and care for me . . . I was laboring and trying to carry the load all on my own!
I'd like to say this was the first time I had reacted this way. But sadly, taking on the weight of life's challenges was a pattern of mine. Sometimes I stayed in that dark wilderness for week upon week. I was like the Israelites after they fled from slavery in Egypt. God was faithfully leading them into the Promised Land. But they were like yo-yo's going up and down between faith and unbelief. And their unbelief kept them wandering in the wilderness for 40 years. Meanwhile, the Promised Land was just eleven days away! So close. So near. Yet, their unbelief and trying to solve their own problems their own way kept them drifting from one crisis to the next year after year after year (See Exodus 16 and Numbers 13-14).
That morning pointed me to God's truth.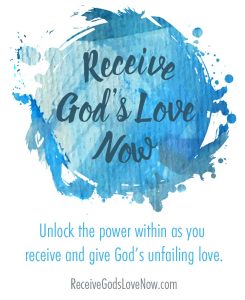 I praise Him that I now see I don't need to carry the weight of the world! I don't have to solve my own problems. Instead, I can trust in His love for me and stay focused on Him. I now declare God's truth over my life over and over again: "You will keep her in perfect peace, whose mind is stayed on You, because she trusts in You." Isaiah 26:3 (gender change is mine when I speak God's Word to my heart).
The foundation of everything is trusting that God is who He says He is and that He loves me! And the knowledge of His love must not only be in my intellect. To be effective the assurance and understanding of God's love has to reside in my heart. Deeply rooted. Grounded. I know that I know that I know kind of understanding and belief.
When we know for sure that God loves us – and when we embrace all that Jesus gained for us through His death and resurrection – then we have the peace and the rest we desire. Just like Jesus offers to us, "Come to Me, all you who labor and are heavy laden, and I will give you rest. Take My yoke upon you and learn from Me, for I am gentle and lowly in heart, and you will find rest for your souls. For My yoke is easy and My burden is light." Matthew 11:28-30
God's love is the foundation for our successful Christian life. The Bible is God's "love letter" to His people where He shows us how very much He loves us!
He who does not love does not know God, for God is love. 1 John 4:8
And we have known and believed the love that God has for us. God is love, and he who abides in love abides in God, and God in him. 1 John 4:16
"'You shall love the Lord your God with all your heart, with all your soul, and with all your mind.' This is the first and great commandment. And the second is like it: 'You shall love your neighbor as yourself.' On these two commandments hang all the Law and the Prophets." Matthew 22:37-40
This passage, while a little complex, illustrates the power of knowing and receiving God's love:
"For this reason I bow my knees to the Father of our Lord Jesus Christ, from whom the whole family in heaven and earth is named, that He would grant you, according to the riches of His glory, to be strengthened with might through His Spirit in the inner man, that Christ may dwell in your hearts through faith; that you, being rooted and grounded in love, may be able to comprehend with all the saints what is the width and length and depth and height— to know the love of Christ which passes knowledge; that you may be filled with all the fullness of God." Ephesians 3:14-19
This is huge and life-changing! Do you see what Paul was teaching the Ephesians back the? Do you see the vital lesson for us today?
If we want to comprehend (understand so we can live by it) the power of God in its width and length and depth and height – then we must know the love of Christ. And it's through that knowing that we may be filled with all the fullness of God!
So if you find yourself tied up in knots over the challenges you are facing, I encourage you to make God's love a priority! Learn about it. Gain knowledge of it. Live it. Be it. Give it. Receive it.
Like Jesus said about the commandments to love God and love others, "On these two commandments hang all the Law and the Prophets." He's saying everything in the Word and everything about our faith depends on loving God and loving others as we love ourselves. Not some of the Law and Prophets, but all!
God is love. And you were made in His image. Follow His lead and be love. And God's promise is that His power will be released in you so you have all your need for a well-lived and faith-driven life.
– – – – – – – – – – – – – – – – – – – – – – – – – – – – – – – – – –