Starting the New Year with extended prayer and fasting is an opportunity for all believers to press into God and seek His will, His wisdom, and His power. And it's an excellent time to start 2018 in a journey of faith that can set our course for the rest of the year. Plus, as you experience the fast, you can develop your faith and strengthen those spiritual muscles.
The New Year Fast 2018 is your invitation to put God first in all you do and allow Him to impact your life. You can begin your New Year on the sure foot of faith and seek Him with your heart. And you can set yourself on the path to develop your faith and draw nearer to God.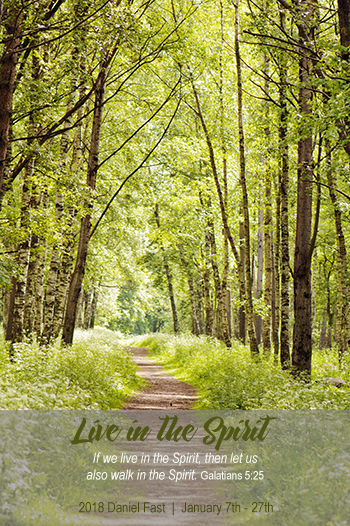 You're Invited
I invite you to join me and thousands of other Christians from around the world to start the New Year with extended prayer and fasting. This fast and gathering of believers is called Live in the Spirit. And over our time of preparation, fasting, and follow-up, you can grow and exercise your faith for answered prayer and a deeper experience with the Lord.
I hope you'll enter this powerful time with us and start the New Year 2018 with your eyes looking to God and your heart open to His love and direction. Enter into a personal journey as you walk in the Spirit and live by faith.
Daniel Fast 2018
Live in the Spirit
January 7 – 27, 2017 *
* Is there an official start date for the New Year fast?
Most people will start the New Year fast on Sunday, January 7th. However, if you or your church start another day, that's totally fine! Whatever date you are called to begin is perfect for you.
Just click HERE or on the image below to receive all the free information about the Daniel Fast and for your invitation to complimentary lessons, videos, how-to's, fasting and faith tips, our private Facebook Group, our new weekly Faith Driven Life podcast, and much more.
Join our community of believers to share your experience, seek and offer prayer, trade recipes, and grow together in faith as you begin the New Year 2017 with extended prayer and fasting. Just click the image below: