Growing in the love and knowledge of Jesus Christ is a process. A brand new Christian doesn't become a mature believer in just a few short weeks or even months. Just like a baby doesn't walk or run until she has developed her muscles, balance and knowledge of what walking is about. In a similar way, we develop in our faith through prayer, study, and applying God's Word to our circumstances. And as we develop, we experience the "out of this world" benefits of a life walking in the Spirit of God.

But there is one essential ingredient to spiritual growth that many Christians don't understand. Without it you will remain weak with most of your prayers unanswered. Plus, your spiritual muscles will atrophy and be weak when you really need to stand firm an believe. What is this essential ingredient?
Consistency . . . daily repeating godly behaviors and practices will always lead you to success. And it's in consistency that you will experience the power available to you through your activated faith.
In Luke 4:16 we read about Jesus and His consistency in prayer and worship, "
H
e came to Nazareth where he had been reared.
As he always did on the Sabbath
, he went to the meeting place. When he stood up to read, he was handed the scroll of the prophet Isaiah." Jesus had a pattern for behaviors. He had a routine. He had disciplines and practices that He always fulfilled.
In Luke 5:16 we see another common practice of our Lord, "So He Himself often withdrew into the wilderness and prayed."
When Joshua was to assume the leadership role after Moses' death, he sought direction for the Lord as to how to fulfill this important call. The Lord gave Joshua clear and concise instructions, "This Book of the Law shall not depart from your mouth, but
you shall meditate in it day and night
, that you may observe to do according to all that is written in it. For then you will make your way prosperous, and then you will have good success." Joshua 1:8. God instructed Joshua to consistently think about and follow His Word, and then he would have a favorable and bright outcome.
Developing a routine that enables us to consistently feed on God's truths is the essential ingredient that will lead us to growth. Yes, at first we may experience little spouts of revelation and knowledge. But as we continue to learn and understand, then we will realize even greater impacts on our life.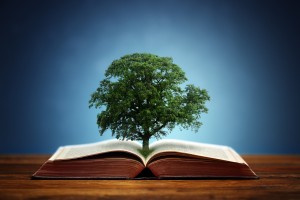 The Bible is God's Living Word. Those words are not merely letters on a page or just interesting reading. His precepts are life. In Proverbs 4:20-22 we see this truth, "
My son, give attention to my words; i
ncline your ear to my sayings.
Do not let them depart from your eyes; k
eep them in the midst of your heart; f
or they are life to those who find them, a
nd health to all their flesh."
God gives us His Word. His Holy Spirit gives us insights and guidance. Our part is to consistently be with Him for prayer, study, meditation and being in His presence. We can do that by developing a daily routine, an unbreakable appointment just as if it was a scheduled time with a doctor or an attorney. Then we will experience the growth, understanding and power we desire and a confidence and security that He promises to us.