I was out on my daily walk this morning when a scene captured my imagination, which later translated into several teachings from the Scriptures. I thought I would share them with you and maybe they will stir a nod in your spiritual thoughts, also.
I live in a rural part of Central Washington State. I try to fast-walk about two miles each day; that's a pace of about 3.5 mph. I walk on a sparsely traveled country road that's straddled by pastures, most of which either have cattle or are fields of growing hay. But one of the pastures is kind of overgrown, and as I trekked by I noticed the contrast of a blossoming apple tree in the midst of brush and brambles.
My first thought was "bloom where you're planted." So often you're not in the perfect place or surrounded by like-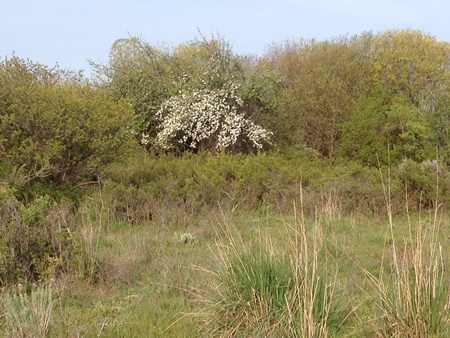 minded people. You might find yourself in situations where you're the only believer or the only one who holds to a biblical standard. That's when you can bloom where you've been planted! You're in a situation that may be more dark than light. But with Christ in you, His light can shine and stand out as a positive message to those around you.
That led me to another Biblical truth. Jesus taught us in John 17 that we are in this world, but not of it. When you gave your heart to Christ, you immediately became a citizen of a different kingdom – the kingdom of God. And while you have new and powerful rights and privileges because of who you are in Christ and the inheritance He made possible, you are still in this world.
God calls His people to be separate from the world. Not necessarily physically separated. But He calls us to a different way of living: "But I have said to you, "I am the Lord your God, who has separated you from the peoples. And you shall be holy to Me, for I the Lord am holy, and have separated you from the peoples, that you should be Mine." Leviticus 20:24, 26
He calls us to be amazingly different by giving ourselves to Him so He can fill us with Himself. We are called to be like Him. To be holy, because He is holy. Special. Light in the darkness. His very own.
So when I saw the white blossoms on the tree in the middle of dark-colored bushes I was reminded that I am to be different. I am to so completely submit to God that it's no longer me who shows up on the scene. But rather Christ in me. Paul put it this way, "I have been crucified with Christ; it is no longer I who live, but Christ lives in me; and the life which I now live in the flesh I live by faith in the Son of God, who loved me and gave Himself for me." Galatians 2:20
And then the tree scene provoked one other thought. This one was about being able to be the best I can be so I can bear the most fruit. So I studied the unpruned apple tree surrounded by so many bushes and brambles and noted that it was suffocating and not able to receive the air and light it needed to be its best.
Jesus teaches us in John 15:2 about our need to be pruned and shaped, "Every branch in Me that does not bear fruit He takes away; and every branch that bears fruit He prunes, that it may bear more fruit." Pruning is a good thing! And often, our pruning comes through revelation coupled with obedience. We study God's Word. We learn His ways. And then we change so we are aligned with Him.
Pruning can also be delivered when we find ourselves in challenging circumstances and we seek wisdom and understanding from God. We follow His lead and His direction. And sometimes we find we've made mistakes. And so we adjust and conform and allow God's truth to change our minds so we can be transformed into the rich, fruit-bearing follower of Jesus we are called to be.
When we look to the Lord and allow only God's will to be our will, then we participate in the productive life He wants for us, "Abide in Me, and I in you. As the branch cannot bear fruit of itself, unless it abides in the vine, neither can you, unless you abide in Me. I am the vine, you are the branches. He who abides in Me, and I in him, bears much fruit; for without Me you can do nothing." John 15:5-4
One thing I know for sure about the apple tree I saw on my walk is that it's not in the best shape right now. But I also know that the potential for it to be a valuable, fruit-bearing tree is within its life. The same for you. The same for me. We might need to make some changes. We might need to clear some things out of our lives. We might even need some pruning. But for sure, because of Christ in us, we have everything we need to blossom and bear the sweet and tasty fruit that we are intended to yield.